Police shoot dead 36 South African miners


Friday, 17 August 2012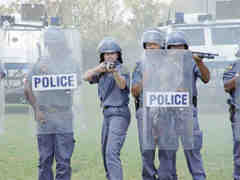 by Mike Anderson



At least 36 striking workers at a South African platinum mine have been shot dead by police in one of the worst shootings since apartheid

JOHANNESBURG, South Africa -- South African police officers opened fire at a crowd of striking workers at Marikana platinum mine near Rustenburg on Thursday, killing at least 36.

The violence erupted after workers had gathered on strike demanding higher salaries in a dispute exacerbated by tensions between two rival trade unions.

The miners, who are currently earning between 4000-5000 rand ($484 - $605), say they want their salary increased to 12,500 ($1,512).

After police failed to disperse the crowd of around 3,000 strikers, they opened fire in circumstances that remain unclear.

According to union reports, at least 36 workers were killed during the incident, which was described as one of the bloodiest police operations since apartheid.

The Star, a Johannesburg newspaper, said another 86 people were wounded.

The mine, located around 60 miles northwest of Johannesburg, is owned by the world's third-largest platinum producer Lonmin PLC.

South African President Jacob Zuma cut short a visit to a regional summit in neighboring Mozambique to head to the mine.

"We are shocked and dismayed at this senseless violence," President Zuma said.

"We believe there is enough space in our democratic order for any dispute to be resolved through dialogue without any breaches of the law or violence."

He stopped short of commenting on the police behaviour.

South Africa is the largest platinum producer in the world and the dispute has already affected production.

Lonmin PLC shares fell more than 5 percent to 4-year lows, bringing their losses since the violence began a week ago to nearly 20 percent.
Source: Afp News - on August 22, 2012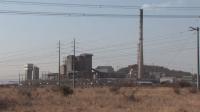 South African police insisted Friday they only fired in self defence in a clash with striking mineworkers in which 34 people died, the deadliest protest since the end of apartheid. Duration: 00:49
You Might Like
Other recent news in Africa
Twitter
Comments
comments powered by
•More original news reports from One News Page