Fukushima investigation declares disaster was "man-made" as Japan restarts its nuclear power plants


Thursday, 5 July 2012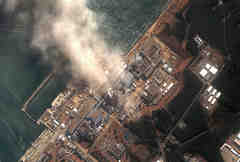 by Alice Monroe



A Japanese parliamentary panel declared the crisis at the Fukushima nuclear plant a "profoundly man-made disaster" as Japan regains nuclear power

TOKYO, Japan -- An independent parliamentary panel published its report about the Fukushima nuclear disaster on Thursday, in which it declared the crisis at the power plant a "profoundly man-made disaster".

According to the panel, the catastrophic accident resulted from "collusion" among the government, regulators and the plant operator, and could have been avoided.

The flawed response to the earthquake and tsunami twin disasters which struck northeastern Japan on March 11 last year was to blame for the subsequent worst nuclear crisis in history, rather than the natural disasters themselves.

Tens of thousands of residents were evacuated from an exclusion zone around the Fukushima plant as workers battled to bring reactors under control.

The publication of the panel's report comes at a delicate time as Japan has begun to restart its nuclear reactors this week. In an unprecedented move, Japan had shut down all of its 50 commercial nuclear reactors on May 5 for safety checks.

This week, the country regained nuclear power after restarting the No. 3 reactor at the Ohi Nuclear power plant in western Japan, with further reactors scheduled to go back online over the coming weeks.

The reactor restart prompted protests by anti-nuclear activists. Recent national surveys showed that about 70% of Japanese voters want the country to ultimately stop using nuclear power.
You Might Like
Other recent news in Asia-Pacific
Twitter
Comments
comments powered by
•More original news reports from One News Page