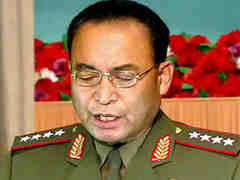 by Alice Monroe



North Korea has relieved its top military leader and closest mentor to the country's leader of all duties - in a move that surprised the world

SEOUL, South Korea -- The world reacted with surprise at the latest developments within the secretive state of North Korea, which saw the country's top military leader sacked.

Ri Yong Ho, who was also a key mentor to young new leader Kim Jong Un, was vice-marshal and chief of general staff of the Korean people's army - one of the most powerful people in authoritarian North Korea.

His dismissal, seen as a major shake-up of the country's power structure, was decided at a meeting of the ruling Worker's Party on Sunday. In a short statement, the party said Ri had been removed from his posts "because of illness". It was not immediately clear who would take Ri's place.

Ri Yong Ho, 69, had looked healthy in recent appearances, and his departure fed speculation among analysts that Kim purged him in an effort to put his own mark on the nation he inherited seven months ago when his father Kim Jong Il died.

Health is often used as the reason when senior officials are sacked.

In Seoul, a spokesman for the Unification Ministry told reporters that the move was "very unusual", according to reports by the BBC.

"It's quite a rare case that the North promptly and publicly announced early this morning the outcome of a meeting yesterday, on 15 July. We will keep monitoring closely," Kim Hyung-suk was quoted by the BBC as saying.

North and South Korea has remained locked in a state of war since 1953. North Korea has one of the world's largest armies, with over 500,000 military personnel in a nation with a population of 24 million.

Animosity has deepened since a North Korean rocket launch in April that the U.N. called a cover for a test of banned long-range missile technology. Multi-party talks on the North's nuclear weapons programme broke down in 2009.
Source: Newsy.com - on July 16, 2012
North Korea announced Monday it has relieved its military chief from all posts due to illness, but analysts are skeptical.
You Might Like
Other recent news in Asia-Pacific
Twitter
Comments
comments powered by
•More original news reports from One News Page