Radioactive fish near Fukushima nuclear plant hint at possible radiation leak


Saturday, 27 October 2012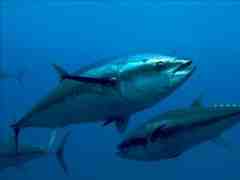 by Alice Monroe



Elevated radiation levels in fish caught near the crippled Fukushima nuclear power plant in Japan may indicate the presence of a leak

TOKYO, Japan -- More than 18 months after the devastating earthquake and tsunami twin disaster struck the Fukushima nuclear plant in Northern Japan, radiation levels found in fish caught in the area are still high.

Renowned U.S. marine chemist Ken Buesseler found that 40 percent of bottom-dwelling marine species in the area show the presence of radioactive cesium in concentrations rendering them unfit for human consumption under Japanese regulations. In fact, the most contaminated fish found yet in the area was caught some 17 months after the disaster.

"The numbers aren't going down. Oceans usually cause the concentrations to decrease if the spigot is turned off," Buesseler remarked, concluding that "there has to be somewhere they're picking up the cesium."

His findings have prompted a response from the Tokyo Electric Power Co. (TEPCO), the plant owner, confirming that the radioactive water used to cool the nuclear reactors leaked into the ocean several times, most recently in April.

The continued increase in radiation levels found in fish may indicate the existence of more persistent plant leak, however.

"It all points to this issue being long-term and one that will need monitoring for decades into the future," Buesseler stated in an interview with BBC News.

The contamination question is of great significance in Japan simply because its population consumes far more fish per head than other countries.
You Might Like
Other recent news in Asia-Pacific
Twitter
Comments
comments powered by
•More original news reports from One News Page