EU throws Google a lifeline to avoid fines over four antitrust concerns


Monday, 21 May 2012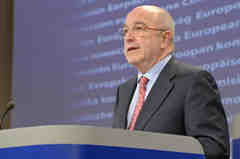 by Marc Pinter-Krainer



The antitrust chief of the European Commission has found Google may have abused its dominant market position to squelch competition and offered the Internet giant a lifeline to devise remedies within "a matter of weeks".

BRUSSELS, Belgium -- Following 18 months of investigations into Google's business practices, the EU has identified four areas in which Google may be exploiting its market dominance in online search to the detriment of competition.

In a statement released on Monday, Joaquín Almunia, EC Vice President responsible for Competition Policy, said that the investigations have led the European Commission to "identify four concerns where Google business practices may be considered as abuses of dominance."

"I hope that Google seizes this opportunity to swiftly resolve our concerns, for the benefit of competition and innovation in the sector," Almunia said, urging the company to offer proposals to remedy the problems "in a matter of weeks."

"Restoring competition swiftly to the benefit of users at an early stage is always preferable to lengthy proceedings," he added.

Following investigations over the past 18 months, the European Commission has identified the distinct areas in which Google may have abused its dominant position in search to its own competitive advantage.

The first concern involves the way in which Google displays its own services, including news, in preferential positions on Google search results pages. "In its general search results, Google displays links to its own vertical search services differently than it does for links to competitors," Almunia said. "We are concerned that this may result in preferential treatment."

A second area of concern is that Google may be copying copyrighted material from other sources, such as restaurant reviews, without the copyright holder's authorisation.

The third antitrust concern involves the advertising contracts Google has with partner websites, which appear to unduly grant Google exclusivity as the sole display ad provider.

Finally, the fourth concern describes Google at present imposing contractual restrictions on software developers preventing them to offer tools allowing clients to export advertising campaign data from Google's AdWords online advertising platform to competitor products.

In response to the EU findings, a Google spokesman said the company disagreed with its conclusions, but would work to resolve the matter.

"We're happy to discuss any concerns they might have," Google spokesman Al Verney said in a statement.

ICOMP, an internet business group promoting a healthy and fair online marketplace, said it welcomed Almunia's statements.

"In principle, news that Google has been instructed to propose remedies is welcome," said ICOMP counsel David Wood in a blog post.

"This implies that the Commission has found that Google's behaviour constituted an abuse of its dominant position in the online search market," Wood said.

"It is vital that the terms of any agreed settlement include measures to quickly redress the harm caused to European businesses and consumers and are sufficiently robust to ensure that such harm is not repeated," Wood explained.

"We trust that this will prove to be the case and a competitive online market place will be restored."

Note to readers
One News Page is a council member of ICOMP.
Unexplained search penalties, a mechanism through which Google demotes websites to obscure positions on its search results pages - often for allegedly illegitimate reasons - are the subject of One News Page's campaign "Have I been penalized..?", which demands greater transparency in that area. Sign up to the mailing list on the campaign website to stay updated with progress of the initiative.
You Might Like
Other recent news in Business
Twitter
Comments
comments powered by
•More original news reports from One News Page