Hewlett-Packard, reporting a 30% fall in profits, to lay off 27000 workers


Thursday, 24 May 2012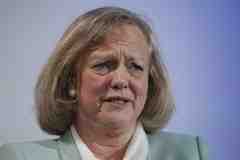 by Stephanie Boyd



Hewlett-Packard announced it is to cut 27,000 jobs by the end of 2014 as part of a major restructuring program designed to bring growth back into the embattled company

SAN FRANCISCO, CA -- Hewlett Packard, the world's largest computer maker, announced on Wednesday it is planning to slash 27,000 jobs, or 8% of its global workforce, within the next two years as part of a major restructuring plan.

HP's CEO Meg Whitman, who took over the helm in September last year, said the restructuring plan is the biggest in the corporation's 73-year history.

The company expects to save $3 billion to $3.5 billion annually from the job cuts and other austerity measures.

The news came as HP announced its quarterly results - a 30% profit decline in comparison to the same quarter a year ago, but still better than what analysts had expected.

"While I wouldn't say we turned the corner, we are making progress," said CEo Whitman, who added she is cautiously optimistic that HP is stabilizing. "It's a journey, and we have a lot of work to do in this turnaround."

She also announced that HP plans to launch tablets -- for both consumers and corporations -- later this year.

"We will have a Windows 8 tablet for the holiday," she said.

The company will also invest further in cloud computing online, data storage and computer security.
You Might Like
Other recent news in Business
Twitter
Comments
comments powered by
•More original news reports from One News Page