The German Supreme Court Is Going To Make A Decision That Will Make The Obamacare Drama Look Like Child's Play


Monday, 2 July 2012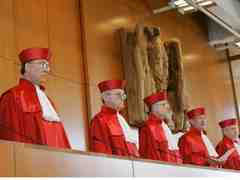 A hearing at Germany's version of the Supreme Court, to be held on July 10, could destroy all the optimism from the last EU summit.

In the wake of the European summit last Friday, the German legislature finally approved the European Stability Mechanism—a permanent European bailout fund.

However, the Constitutional Court...
You Might Like
Other recent news in Business
Twitter
Comments
comments powered by