Usain Bolt Will Compete In The 2016 Olympics


Friday, 10 August 2012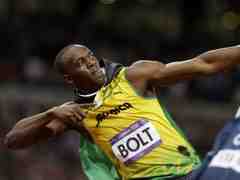 You might wonder what there is left to prove for the man that has declared himself to be the "greatest athlete" ever. In fact, when asked what was left to prove after winning the 200 meters yesterday, Usain Bolt said "nothing really." But that doesn't mean the 25-year old is ready to retire.

When asked if he will compete in...
Recent related news

SI Now: Will Michael Phelps compete in the 2016 Olympics?
Michael Phelps is coming out of retirement to get back into the pool, but will he compete at the 2016 Olympics in Rio?
SI.com 5 days ago - Sports
Also reported by •CBS 2 •Mashable •NY Daily News •Business Insider •Washington Post •FOX Sports •Chicago S-T •NY Post •MyNorthwest.com
You Might Like
Other recent news in Business
Twitter
Comments
comments powered by