Foxconn denies workers' strike at Chinese iPhone 5 production plant


Saturday, 6 October 2012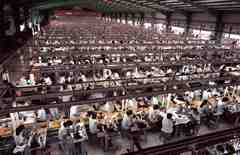 by Alice Monroe



Taiwan-based electronics manufacturer Foxconn has denied reports of up to 4,000 quality control workers going on strike at its iPhone 5 plant in China

BEIJING, China -- Foxconn Technology Group, the Taiwan-based electronics giant that assembles Apple products, has denied reports that its iPhone 5 manufacturing plant in China was halted by a strike of up to 4,000 quality control workers.

According to reports by China's official Xinhua News Agency on Friday, production lines at Foxconn's Zhengzhou plant were halted on Friday when quality inspectors stopped working to show their dissatisfaction over higher quality standards.

Independently, the strike was confirmed by U.S.-based China Labor Watch which reported that three to four thousand workers stepped off the iPhone 5 production line at the Foxconn factory to protest the newly imposed quality standards, which only allow for a 0.02mm appearance defect.

"It's tough under such stringent quality requirements," Foxconn employee Yefudao wrote. "A 0.02mm appearance defect is already beyond that of our vision. With such a demanding task, workers' mental pressure becomes so immense that they have to vent it out."

According to reports by China Labor Watch, the fact that workers are being asked to meet the higher quality standards without receiving the training necessary to do so has exacerbated tensions at the plant and reportedly sparked a fight that led to property damage, injury and some hospitalization.

Foxconn headquarters, situated some 800 miles away in Taiwan, issued a statement on Saturday denying any strike or work stoppage.

The firm, which is the world's largest contract maker of electronics for global brands such as Apple, Hewlett Packard, Sony, Nokia and Dell, said there were two isolated, small-scale disputes between production line workers and quality assurance personnel earlier in the week, but it added that they were quickly addressed and resolved.

The alleged strike would not be the first sign of staff dissatisfaction with working conditions at Foxconn's Chinese factories.

Last month, a large contingent of police was called out to contain a brawl among workers at its plant in the northern Chinese city of Taiyuan. A string of at least 13 staff suicides in 2010 caught international attention, with activists blaming working conditions for the deaths.
Source: Newsy.com - on October 6, 2012

Thousands of Foxconn Technology Group workers have gone on strike over strict product quality demands for the iPhone 5.
You Might Like
Other recent news in Business
Twitter
Comments
comments powered by
•More original news reports from One News Page