Fatburger chief executive has the fast-food chain sizzling


Saturday, 26 January 2013

The gig : Andrew Wiederhorn is the chairman and chief executive of Fatburger Inc., a fast-food restaurant chain based in Beverly Hills. The first Fatburger opened on Western Avenue in Los Angeles in 1947 and gained notoriety when rappers Ice Cube, Tupac Shakur and the Notorious B.I.G. all mentioned the restaurant in songs. Since 2003, Fatburger has been owned by Fog Cutter Capital Group Inc., a Santa Monica investment company of which Wiederhorn is also chairman and CEO.
Source: Business edition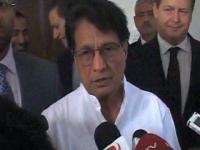 New Delhi, Jan 31 (ANI): Abu Dhabi's Etihad Airways is in talks with Jet Airways for a potential investment in the Indian carrier, Civil Aviation Minister Ajit Singh said today, without giving any details of the possible deal. After a meeting with Jet Chairman Naresh Goyal and Etihad Chief...
Recent related news
U.S. Steel shuffles executive ranks

United States Steel Corp. announced management changes Wednesday in its executive ranks. Larry T. Brockway, senior vice president and chief risk officer, has...




bizjournals 1 day ago - Business





GM names Barra auto industry's 1st female CEO

GM names Barra auto industry's 1st female CEO General Motors named Mary Barra to succeed Dan Akerson as chief executive officer Tuesday, making her the first...




SFGate 2 days ago - Business

Also reported by •bizjournals •Forbes.com


Long John Silver's Names Joseph Lutz Chief Operating Officer

Joseph Lutz brings more than 30 years of industry experience to Long John Silver's, the nation's largest quick service seafood chain. Louisville, Kentucky...




PRWeb 3 days ago - Press Releases





Goldplat eyes commercial benefit from responsible gold award

Smelter operator Goldplat (LON:GDP) has been certified as a producer of Responsible Gold in South Africa along with its strategic partner Rand Refinery. The...




Proactive Investors 1 week ago - Business




You Might Like
Other recent news in Business
| | |
| --- | --- |
| Thursday's most followed in U.S. including Oracle, FACEBOOK, Apple, Ciena, Lululemon, JPMorgan Chase, Boeing, UNS, Southwest Airlines | RETAIL SALES ACCELERATE, CORE SALES GROWTH DOUBLES EXPECTATIONS, BIG UPWARD REVISIONS |
| HERE COMES RETAIL SALES... | Korean court says APPLE did not violate Samsung patents |
| Mobiquity: Mobile shopping honors go to TARGET, Apple | Yahoo Is Using GOOGLE And Facebook Bus Stops As Recruiting Centers |
| Overtime at Apple supplier's CHINA factories still too high - labor group says | INSTAGRAM's New Photo Messaging Feature Is A Strong Response To Snapchat |
| Spurned by PRESIDENT, EU embraces Ukraine protest | HILTON Worldwide's IPO raises more than $2.3B |
Twitter
Comments