Blanket Jackson's Real Father: Michael Jackson's Bodyguard?


Thursday, 19 April 2012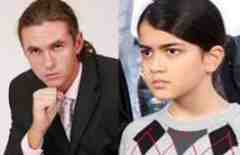 And the Bodyguard Says He Wants to Raise His Son Even years after his 2009 death, the Michael Jackson shockers keep on coming. The latest: MJ's former bodyguard, Matt Fiddes, claims he's the biological daddy of Jackson's on Blanket, and now he wants to raise his son.
You Might Like
Other recent news in Celebrities
Twitter
Comments
comments powered by