RT on DVD & Blu-Ray: Inside Llewyn Davis, Out of the Furnace, and More
This week on home video, we've got three Oscar-nominated selections, one thriller from a director who previously helmed an Oscar-winning film, and an actioner...
Rotten Tomatoes 20 hours ago - Entertainment

Rosie Huntington-Whiteley Was Immediately Blown Away By Nicole Richie!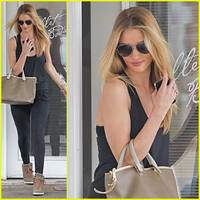 Rosie Huntington-Whiteley rocks a cool pair of kicks while stepping out after a workout session at Ballet Bodies on Friday (March 7) in West Hollywood, Calif....
Just Jared 3 days ago - Entertainment

Conan Gives Us Some Fake BuzzFeed Lists That Might As Well Be Real
BuzzFeed, the Internet's official vortex of lists documenting pretty much anything you can think of, is starting to drive Conan O'Brien insane. On last night's...
Huffington Post 1 week ago - Entertainment