Rosie Huntington-Whiteley Calls For an End to Sexual Violence Against Children in Conflict
Rosie Huntington-Whiteley is dressed to the nines as she heads out to dinner with her beau Jason Statham on Tuesday (March 4) in Los Angeles. The 26-year-old...
Just Jared 3 days ago - Entertainment

Conan Gives Us Some Fake BuzzFeed Lists That Might As Well Be Real
BuzzFeed, the Internet's official vortex of lists documenting pretty much anything you can think of, is starting to drive Conan O'Brien insane. On last night's...
Huffington Post 4 days ago - Entertainment

Rosie Huntington-Whiteley Sheers It Up at Vanity Fair Oscars Party 2014 with Jason Statham!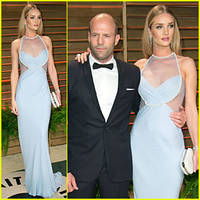 Rosie Huntington-Whiteley rocks a sheer baby blue dress at the 2014 Vanity Fair Oscar Party hosted by Graydon Carter held during the 2014 Oscars on Sunday night...
Just Jared 5 days ago - Entertainment