The Flaming Lips and Miley Cyrus Played "Yoshimi" Together Again, Got Pelted With Bras: Watch

Monday, 17 March 2014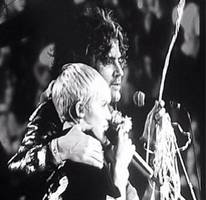 Photo via Miley Cyrus' Instagram

The Flaming Lips /Miley Cyrus lovefest continues. Just like they did in Los Angeles, Wayne Coyne and Steven Drozd joined Cyrus on stage at the Tulsa stop of her Bangerz tour on Thursday night. They did the Lips' "Yoshimi Battles the Pink Robots (Part 1)". According to the Future Heart, they did the song twice, back-to-back, just like in L.A. Watch video of one of the run throughs below, via the Future Heart.

Coyne held balloons that spell out "FUCK YEAH TULSA", and got pelted with bras from the audience. According to the Future Heart, during the second run-through, Miley put on a hot dog costume that someone had thrown on stage.

The Flaming Lips are also working with Cyrus on a cover of the Beatles' "Lucy in the Sky With Diamonds".

Watch Pitchfork.tv's Pitchfork Classic doc on the Flaming Lips' The Soft Bulletin:
Recent related news

Stream The Flaming Lips With A Little Help From My Fwends
The Flaming Lips' much-discussed tribute album to the Beatles' Sgt. Pepper's Lonely Hearts Club Band is finally here. Like their Dark Side Of The Moon...
stereogum 2 days ago - Entertainment

Miley Cyrus, The Flaming Lips, and Moby Unveil Their 'Lucy in the Sky with Diamonds' Cover
and more from the Sgt. Pepper cover album.
Marie Claire 1 week ago - Celebrities
You Might Like
Other recent news in Entertainment
Twitter
Comments