Deadly earthquake strikes northern Italy - AGAIN


Tuesday, 29 May 2012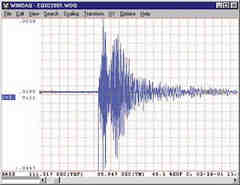 by Alice Monroe



The Emilia region in northern Italy was struck by a 5.8-magnitude earthquake on Tuesday morning, leaving at least eight people dead

MODENA, Italy -- At least eight people died and several other left buried under rubble when a new 5.8-magnitude earthquake struck the Emilia region in northern Italy on Tuesday morning.

The deadly quake followed just 10 days after the same region was struck by a 6-magnitude quake which killed seven people and destroyed many buildings.

Tuesday's quake was centered around 25 miles north-west of Bologna and struck at 9.00am local time (0700h GMT) and was followed by several smaller aftershocks.

Whilst Civil protection officials say they cannot confirm how many have been killed, a Red Cross source told Reuters that at least eight people died.

Meanwhile news agency LaPresse reported that five people were buried under the rubble of collapsed homes and factories.

Follow the latest media coverage on the Italy Quake here.
Source: Associated Press - on May 29, 2012

A magnitude 5.8 earthquake struck northern Italy on Tuesday, killing at least 15 people as factories, warehouses and a church collapsed in the same region still struggling to recover from another deadly tremor nine days ago. (May 29)
You Might Like
Other recent news in Europe
Twitter
Comments
comments powered by
•More original news reports from One News Page