Government plans set out internet use surveillance in the United Kingdom


Thursday, 14 June 2012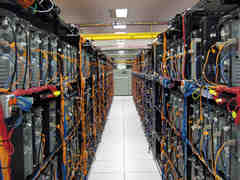 British police and intelligence services will be able to access citizen's online activity records under new government plans

LONDON, United Kingdom -- A new government bill proposing for all online activity being stored for a year so law enforcement and intelligence services can access them was due to be published by the British government on Thursday.

British Home Secretary Theresa May said the so-called Communications Bill was needed to tackle crime and terrorism.

Under the new proposals, UK communications companies such as Internet Service Providers (ISPs) would be required to store detailed records of people's online activity for a minimum of one year. The retained records would include activities on social networks, web-based email, voice calls over the Internet and online gaming. Accesses to websites would also be logged, however without specific information on which pages within those sites have been accessed.

The publication of the proposed bill comes after months of widespread criticism from civil liberties campaigners of Mrs. May's plans to extend Internet surveillance.

Conservative back-bencher David Davis described the plans as "hugely intrusive", and warned that actual criminals were likely to find ways around the proposed surveillance scheme.

"The only people who will avoid this are the actual criminals, because there are ways around this - you use an internet cafe, you hack into somebody's wi-fi, you use what's called proxy servers, and they are just the easy ways," Davis explained.

Metropolitan Police commissioner Bernard Hogan-Howe said having greater powers to access data was essential in waging a "total war on crime". Writing in the Times newspaper he warned that police risked losing the fight against crime unless MPs passed a law enabling them to collect more communications data.

"Put simply, the police need access to this information to keep up with the criminals who bring so much harm to victims and our society," Hogan-Howe wrote.
Source: KPVI NBC Pocatello, ID - on June 22, 2012

A man in Idaho Falls is planning on breaking a Guinness World Record: 'The most falls taken with a safety harness in one hour.' He's already gotten the ok from the Guinness World Records of the United Kingdom.
You Might Like
Other recent news in Front Page
Twitter
Comments
comments powered by
•More original news reports from One News Page