Kate topless photos: Royal lawyers in Paris court seeking to restrict further publication


Monday, 17 September 2012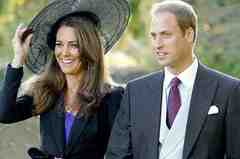 by Alice Monroe



Lawyers of the Duke and Duchess of Cambridge were due to appear in court in Paris on Monday seeking to have French magazine Closer withdrawn from sale after it printed topless photos of Kate

PARIS, France -- William and Kate, the Duke and Duchess of Cambridge, have instructed their lawyers to seek an injunction on further publication of topless photographs of the duchess.

The royal couple's lawyers were due to appear in court in Paris on Monday to press criminal charges against French magazine Closer, which published the controversial pictures last week, and the photographer who took them.

They will also attempt to have the magazine withdrawn from sale and to restrict further publication of the photographs.

Kate was said to be "hugely saddened" over the publication of the photos taken during a private holiday in France.

Any injunction granted by the French court would only relate to the distribution of the photos in France.

Meanwhile, Closer's Italian sister magazine Chi pushed ahead with its plan to publish a special edition on Monday which features 19 pages of the photographs of the royal couple, including a series of topless photos of Kate.

Chi's editor Alfonso Signorini defied the risk of legal action when deciding to go ahead with the publication of the photos.

Signorini tweeted over the weekend that "Not even a direct call from the Queen" would stop him printing the paparazzi shots.

It's not the first time his magazine has published photos of the royal family in a highly controversial way. In 2006, it printed a photo of William's mother, Princess Diana, receiving oxygen in the wreckage of the car crash that killed her in 1997. The move was widely condemned by the British media.

Back to the recent photos of Kate, there have also been reports of further, more intimate footage of the royal couple being in existence, which has to date not been published.

Meanwhile, the royal couple have made every effort for the photo scandal not to faze their upbeat spirit during their Diamond Jubilee tour of South East Asia and the South Pacific.

The Duke and Duchess received a very warm welcome by tens of thousands of well-wishers on the Solomon Islands on Sunday. Ahead of a state dinner at the home of Governor General Frank Kabui, the royal couple agreed to pose for photographs. William told the waiting British photographers: "As you asked so nicely, of course."
Source: Newsy.com - on September 15, 2012

Kate Middleton topless photos — the phrase is repeated in headlines around the world. But the royal family wants to put a stop to that with a lawsuit
You Might Like
Other recent news in Front Page
Twitter
Comments
comments powered by
•More original news reports from One News Page