Obama warns Ahmadinejad in UN speech as Iran threatens to attack Israel


Tuesday, 25 September 2012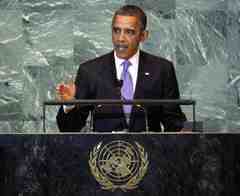 by Alice Monroe



U.S. President Barack Obama told the United Nations General Assembly that his country will "do what we must" to prevent Iran from acquiring a nuclear weapon, as Iran's president Ahmadinejad declared Israel will be "eliminated"

NEW YORK -- As 120 world leaders gathered in New York for the annual United Nations General Assembly, U.S. President Barack Obama warned Iran in his opening speech.

He told the UN that a nuclear-armed Iran "is not a challenge that can be contained", and that "the United States will do what we must to prevent Iran from obtaining a nuclear weapon."

His warning came after Iranian President Mahmoud Ahmadinejad said on Monday that Israel has no roots in the Middle East and would be "eliminated" - ignoring a warning from UN Secretary-General Ban Ki-moon to avoid incendiary rhetoric ahead of the General Assembly Meeting.

"We don't even count them as any part of any equation for Iran. During a historical phase, they (the Israelis) represent minimal disturbances that come into the picture and are then eliminated," the Iranian president said.

Israel is believed to be considering a pre-emptive strike on Iran's nuclear enrichment facilities - however, Ahmadinejad declared that an empty threat. "Fundamentally we do not take seriously the threats of the Zionists," he said. "We have all the defensive means at our disposal and we are ready to defend ourselves."

Back in the UN General Assembly, Barack Obama stepped up the pressure on Iran to seek a diplomatic solution, although he highlighted that "time [for a diplomatic solution] was not unlimited."

Obama's speech at the UN General Assembly comes just six weeks ahead of the U.S. Presidential elections in a close race against Republican rival Mitt Romney.
Source: Newsy.com - on September 25, 2012

In his latest remarks, Ahmadinejad dismisses Israel's history in the Middle East and its threats against Iran, sparking wide media reaction.
You Might Like
Other recent news in Front Page
Twitter
Comments
comments powered by
•More original news reports from One News Page