Syrian passenger plane "carrying Russian munitions" intercepted by Turkish fighter jets


Thursday, 11 October 2012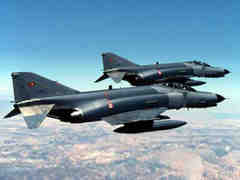 by Stephanie Boyd



A Syrian Air passenger plane was forced to land in Turkey following an intelligence tip-off that it had illegal cargo on board: It was carrying ammunition to Syria

ANKARA, Turkey -- The Turkish Prime Minister Recep Tayyip Erdogan confirmed on Thursday that a Syria-bound passenger jet was illegally carrying Russian defense equipment and munitions.

The Turkish leader's confirmation followed a fierce denial by Syria that anything illegal was aboard the Airbus 320 which carried 30 passengers across Turkish airspace when it was intercepted by Turkish fighter jets late Wednesday.

"These were equipment and ammunitions that were being sent from a Russian agency ... to the Syrian Defense Ministry," Erdogan briefed reporters in Ankara.

"Passenger aircraft cannot carry ammunition and defence equipment," Erdogan said, adding, "unfortunately there was such equipment on board".

The interception of the Syria Air jet followed an intelligence tip-off that it has illegal cargo on board.

Syria condemned the interception. Syrian Transportation Minister Mohammad Ibrahim Said said Turkey's decision to force the plane to land amounted to piracy.

The incident marks further escalation of the tensions between Turkey and Syria.

Turkey has become one of Syrian President Bashar al-Assad's harshest critics during an 18-month-old uprising that has killed some 30,000 people.

Tensions between Turkey and Syria had already increased further last week, following the deaths of five Turkish civilians by shelling from across the border.
Source: Newsy.com - on October 12, 2012

Turkish fighter jets forced a plane from Russia headed for Syria to land before carrying on to Damascus.
You Might Like
Other recent news in Front Page
Twitter
Comments
comments powered by
•More original news reports from One News Page