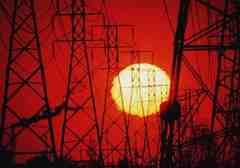 by Alice Monroe



A massive power grid collapse in India has left more than half the country without power in one of the world's largest-ever power outages

NEW DELHI, India -- A catastrophic power failure spread across northern and eastern India on Tuesday, leaving more than 600 million people without power in one of the world's largest-ever electricity blackouts.

The crippling power failure India's second in just two days and left the country's northern and eastern regions, including the capital New Delhi, without power, causing severe disruption and travel chaos.

"Both the northern and eastern grids have collapsed. Please allow us to address the problem," VK Agrawal, the general manager of the northern grid, said on Tuesday.

The affected power grids serve more than half of India's population of 1.2 billion people.

Analysts commented that unless there is a huge investment in the power sector, the country will see many more power failures. The latest outages may be seen to underline the urgency behind Prime Minister Manmohan Singh's bid to attract $400 billion in investment and ease an electricity deficit that is holding back economic growth.

India's demand for electricity has soared along with its economy in recent years, but utilities have been unable to meet the growing needs. Demand is set to grow further in the populous country one-third of all households do not even have electricity to power a light bulb, according to last year's census.
Source: Newsy.com - on July 31, 2012
More headlines: Power outage spreads in India; June eurozone unemployment hits 11.2 percent; UN team to visit N. Korea after loods.
You Might Like
Other recent news in India
Twitter
Comments
comments powered by
•More original news reports from One News Page