Internet giant Google is "accruing billions of dollars of antitrust liabilities" - Foundem chief


Tuesday, 4 September 2012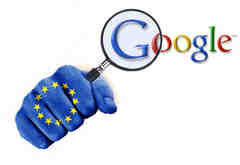 by Marc Pinter-Krainer



According to Foundem, one of the companies which originally complained to the European Commission about Google's business practices, the U.S. corporation is "accruing billions of dollars of antitrust liabilities"

LONDON, United Kingdom -- Google Inc. (NASDAQ:GOOG) may face a "tsunami of litigation" over its business practices currently investigated by EC competition authorities, according to Shivaun Raff, the head of UK price comparison website Foundem.

Foundem is one of the companies that originally filed a complaint about Google's allegedly anti-competitive business practices with the European Commission in November 2009, triggering the EC antitrust investigation.

European competition authorities have since found four areas of concern on how Google could be abusing its dominant market position to its own competitive advantage, harming competition in the process.

One of those concerns was that Google appears to be manipulating its search results to promote its own secondary services while demoting or excluding those of its competitors.

The current developments of the EC investigation are not certain after Google offered potential remedies to the commission which are still being evaluated.

According to Raff, court action following an infringement decision is a distinct possibility if Google does not agree to make necessary changes voluntarily. This could cost the Internet giant billions of dollars in fines.

"Unbeknownst to its shareholders, Google's increasingly anti-competitive practices have been quietly accruing billions of dollars of antitrust liabilities," Raff said.

One of the possible remedies for Google to comply with competition regulations should include "clear and conspicuous labelling" of its own content or services on its search results pages, according to a framework of remedies proposed by Foundem.

According to Raff, many online companies are likely to have been affected by Google's business practices.

"It is impossible to know how many companies have been harmed or destroyed by these practices — it could be hundreds or even thousands — but whatever the number, the consequence of abuse on a grand scale is liabilities on a grand scale," Raff said.

Note to Readers:
One of the affected companies is news portal website One News Page, which has experienced a prolonged and unexplained Google penalty in the past. Since then, One News Page has set up a campaign for greater search engine transparency surrounding penalties called "Have I been penalized..?" - see the campaign website for further details.
You Might Like
Other recent news in Internet
Twitter
Comments
comments powered by
•More original news reports from One News Page