Facebook surpasses one billion monthly users


Thursday, 4 October 2012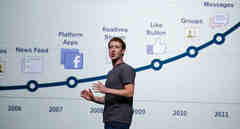 by Mike Anderson



Social networking site Facebook has reached the 1 billion active users milestone

SAN FRANCISCO, CA -- Facebook, the world's largest social networking site, now has more than one billion users logging on every month, the U.S. company confirmed.

CEO Mark Zuckerberg shared his excitement in a status update on Thursday: "Helping a billion people connect is amazing, humbling and by far the thing I am most proud of in my life."

If Facebook were a country, it would be the third largest in the world, behind China with 1.34 billion people and India with 1.2 billion.

Analysts see a sustained growth as crucial for Facebook to maintain its market value, which since the float earlier this year has already dropped to $22 from $38.
Source: Newsy.com - on October 5, 2012

Facebook just hit 1 billion active users in September, eight years after launching.
Recent related news

WhatsApp Hits 500 Million Users
The mobile messaging app maker WhatsApp, bought by Facebook for $19 billion, hit a big milestone yesterday: It has 500 million active monthly users.
msnbc.com 18 hours ago - Technology
Also reported by •Mashable •bizjournals
You Might Like
Other recent news in Internet
Twitter
Comments
comments powered by
•More original news reports from One News Page