Saudi crown prince Nayef dies


Saturday, 16 June 2012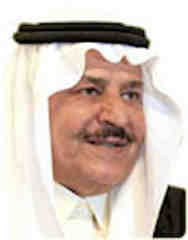 by Alice Monroe



Saudi Crown Prince Nayef bin Abdulaziz Al Saud has died aged 78, state media report

RIYADH, Saudi Arabia -- Saudi Crown Prince Nayef bin Abdulaziz Al Saud has died, according to state media reports on Saturday.

The Crown Prince's death follows weeks of speculation about his health after taking several trips abroad for medical tests, the nature of which was undisclosed.

Only two weeks ago, Saudi media reported Crown Prince Nayef, staying in Switzerland for medical tests, was in good health. He was understood to have returned to Saudi Arabia on June 13.

A royal statement from King Abdullah confirmed the Crown Prince's death on Saturday, and said the prince will be buried Sunday, without giving any further details.

Nayef was appointed Crown Prince of Saudi Arabia and First Deputy Prime Minister by King Abdullah on October 27, 2011, and was interior minister since 1975.

Prince Nayef was considered to be one of the most conservative persons in the Al Saud family, and was generally described as elusive, ambiguous, pragmatic, unimaginative, shrewd, and outspoken.
Source: Newsy.com - on June 17, 2012

Saudi Arabia mourns the death of Crown Prince Nayef. A new generation of Saudi officials expected to take power.
You Might Like
Other recent news in Middle East
Twitter
Comments
comments powered by
•More original news reports from One News Page