The American 'Dream Home' has Not Been Forgotten, Says Homes.com Survey


Monday, 23 July 2012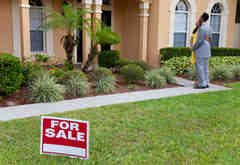 According to a new national home buyer's survey conducted by Homes.com, the "American Dream" of home ownership is far from forgotten, despite continued economic concerns. The survey reviews that more than 70 percent of respondents opted for a single-family detached home in a country setting that has four bedrooms and three bathrooms, with about 40 percent looking for a home with more than 2,000 square feet.
Source: KGPE CBS 47 Fresno - on July 16, 2012
There's been a lot of talk this week whether the 2012 U.S. Olympic Basketball Team could beat the 1992 Dream Team. Kobe Bryant says yes, Michael Jordan and Charles Barkley say absolutely not. CBS47 suggests a Central Section Dream Team.
Recent related news
Vatican spokesman says Pope Francis's personal phone calls creating confusion

Pope Francis's habit of picking up the phone and cold calling people who write to him is landing the Vatican in hot water and spokesman Federico Lombardi has...




Raw Story 31 minutes ago - US





US Journo Held in Ukraine

Pro-Russian gunmen in eastern Ukraine admitted today that they are holding an American journalist who has not been seen since early yesterday. Simon Ostrovsky, a...




Newser 1 day ago - Front Page





Pro-Russian Insurgents Hold Journalist Captive

The post Pro-Russian Insurgents Hold Journalist Captive by Associated Press appeared first on The Epoch Times. DONETSK, Ukraine— Pro-Russian gunmen in...




Epoch Times 1 day ago - Europe

Also reported by •Huffington Post •bizjournals


Why are foreign adoptions in the US on the decline?

A report released Friday from the US State Department says that the adoption of foreign children from US parents declined 18 percent last year, and is the lowest...




Christian Science Monitor 3 days ago - Lifestyle




You Might Like
Other recent news in Property
Twitter
Comments
comments powered by