Lyrid meteor shower to put on dazzling display


Friday, 20 April 2012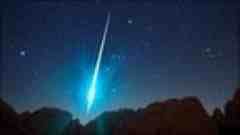 by Mike Anderson



This weekend should offer a perfect opportunity to observe the Lyrid meteor shower which peaks on Sunday

Moonless nights over the weekend should offer unusually good conditions to observe the annual display of the Lyrid meteor shower, astronomers say.

Up to 20 meteors per hour should be visible as Earth passes through the orbit of an old comet named Thatcher.

Tiny debris particles left behind by comet Thatcher's trail enter the Earth's atmosphere at high speed. As they burn up at an altitude between 47 and 62 miles high, they leave behind a bright visible streak of light.

At rare occasions, slightly larger particles can result in fireballs streaking across the sky, too, according to experts - which should make for a spectacular display.

The Lyrid meteor shower should be visible from any location on the northern hemisphere. Its radiant is close to the bright star Vega in the constellation of Lyra - hence these meteors are called the Lyrids.

Astronomers say the morning half of the night is best to observe meteors as the morning side of Earth faces forward in our planet's orbit around the sun - so it's less shielded from comet debris.
Source: KRNV Reno - on April 23, 2012

A possible meteor may be to explain the loud boom many heard and felt around 8am on Sunday.
Recent related news

Lyrid Shower Coming on Earth Day
HARRISONBURG, Va.-- If you head outside this morning, you might catch a shooting star. One of the oldest known meteor showers is on full display
CapitalBay 2 days ago - US
Also reported by •msnbc.com
You Might Like
Other recent news in Science
Twitter
Comments
comments powered by
•More original news reports from One News Page