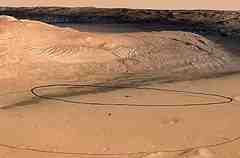 by Mike Anderson



NASA has pushed the planned landing site for its massive Curiosity Mars rover nearer to its ultimate destination - but also closer to a hazardous mountain

NASA's new Curiosity Mars rover - the largest, heaviest and most advanced Mars exploration vehicle to date - is set to land on the Red Planet on August 6, completing its current 350-million-mile journey from Earth.

The stakes are high for the $2.5 billion mission, given that most of the Mars missions despatched from Earth have failed to land intact.

However, NASA mission specialists are confident enough to move the target landing area to a riskier location in order to try and save time once the rover was deployed on the surface for its exploratory work.

By moving the landing site closer to Mount Sharp near the Martian equator, NASA scientists are hoping to save months in driving time for the rover to get to its ultimate destination - but the same mountain could also pose a landing hazard.

"We're trimming the distance we'll have to drive after landing by almost half," says Pete Theisinger, Mars Science Laboratory project manager at NASA's Jet Propulsion Laboratory. "That could get us to the mountain months earlier."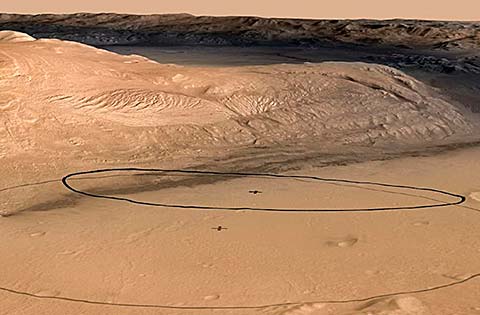 NASA is now targeting a smaller landing area closer to a mountain for its Curiosity Mars Science Laboratory rover
Image credit: NASA/JPL-Caltech/ESA/DLR/FU Berlin/MSSS

Dave Lavery, the Mars Science Laboratory program executive at NASA Headquarters, warned of the risks involved with landing the rover safely on the Red Planet.

"We've done everything we can to ensure the greatest probability of success," he said.

"The reality is, this is a very risky business. Historically, only about 40 percent of the missions to Mars have been successful for any of a number of various different reasons...There is never a guarantee of success. We've done everything prudently possible to ensure that our probability of success is as high as possible, but it's never a guarantee," Levery said.

Curiosity's landing is scheduled for approximately 0131h EDT on August 6 (2231h PDT on August 5). The robot will be in good company as it nears landing. Two NASA Mars orbiters, along with a European Space Agency orbiter, will be in position to listen to radio transmissions as Mars Science Laboratory descends through Mars' atmosphere.
Recent related news

MRO Spots Curiosity from Martian Orbit
Mission controllers at the NASA Jet Propulsion Laboratory (JPL) in Pasadena, California, have just released a new image of the Martian surface, collected by the...
Softpedia 1 week ago - Technology

NASA Is Testing A Flying Saucer For Landing On Mars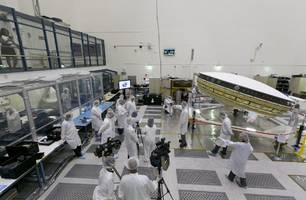 The jet-powered sky crane that lowered the one-ton Curiosity rover onto the Martian surface in 2012 just won't do when it comes time to putting the first humans...
Business Insider 1 week ago - Technology
You Might Like
Other recent news in Science
Twitter
Comments
comments powered by
•More original news reports from One News Page