NASA's Curiosity rover lands safely on Mars and beams back first images following daredevil descent


Monday, 6 August 2012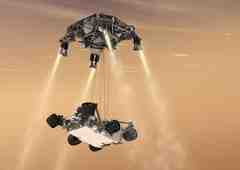 by Marc Pinter-Krainer



NASA's "Curiosity" Mars rover has successfully touched down on the Red Planet's surface following an unprecedented landing maneuver involving a rocket-powered sky crane

PASADENA, CA -- Mission controllers at NASA's Jet Propulsion Laboratory in Pasadena, California, burst into cheers and applause as they received confirmation from the Curiosity Mars rover that it had landed safely on the Red Planet in the evening of Sunday, August 5 (PDT) (morning of Monday, August 6 (EDT,GMT).

The landing of car-sized Curiosity, the most sophisticated rover ever built, consisted of an unprecedented sequence of daredevil maneuvers which resembled a science fiction story, including the world's largest supersonic parachute and a rocket-powered sky crane which lowered the one-tonne vehicle down to the Martian surface on a tether.

It marked the end of an eight-month journey across 352 million miles of space and the beginning of an ambitious two-year mission to search for signs the Red Planet may once have harbored key ingredients for life.

The dramatic arrival of the $2.6-billion Curiosity rover followed the deployment of a huge supersonic parachute which slowed the spacecraft from 13,000 mph to around 200 mph, and rockets which slowed it further to just 2 mph.

Then, a rocket-powered sky crane carried the extraterrestrial vehicle to its ultimate landing site, inside an ancient crater named Gale, near the Red Planet's equator.

U.S. President Barack Obama called the successful landing as "an unprecedented feat of technology that will stand as a point of national pride far into the future."

The President's top science advisor John Holdren said: "It's an enormous step forward in planetary exploration. Nobody has ever done anything like this."

Within seconds of touching down its six wheels on the Martian surface, Curiosity beamed back a low-resolution image captured by one of its navigation cameras.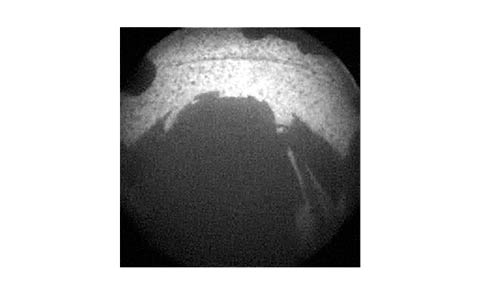 The first image taken by NASA's Curiosity on planet Mars shows the rover's shadow on an apparently flat Martian surface.
NASA released the image just minutes after the rover's successful landing.
Image credit: NASA

Engineers at mission control at JPL, who have worked on the project for nearly 10 years, greeted the image with roaring cheers.


Engineers and technicians at NASA's Jet Propulsion Laboratory react to the news that Curiosity has landed on Mars
Video credit: NASA TV / Space.com

NASA Administrator Charles Bolden hailed the historic landing as an "amazing achievement".

"Today, the wheels of Curiosity have begun to blaze the trail for human footprints on Mars," Bolden said.

"Curiosity, the most sophisticated rover ever built, is now on the surface of the Red Planet, where it will seek to answer age-old questions about whether life ever existed on Mars — or if the planet can sustain life in the future. This is an amazing achievement, made possible by a team of scientists and engineers from around the world and led by the extraordinary men and women of NASA and our Jet Propulsion Laboratory."

NASA plans to put the nuclear-powered rover and its sophisticated instruments through several weeks of engineering checks before instructing it to commence its science mission.

Image: Artist's impression of NASA's sky crane lowering Curiosity onto the surface of Mars
Image credit: NASA / JPL-Caltech
Source: WFTS ABC 28 Tampa, FL - on August 6, 2012

NASA Curiosity rover lands on Mars
You Might Like
Other recent news in Science
Twitter
Comments
comments powered by
•More original news reports from One News Page