Having landed safely on Mars, NASA's Curiosity rover takes a snap of its 2-year mission target: Mount Sharp


Tuesday, 7 August 2012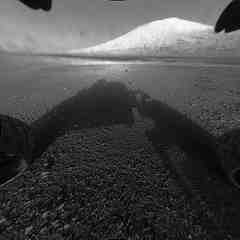 by Marc Pinter-Krainer



Following the dramatic arrival of NASA's sophisticated Curiosity rover on Mars, it beamed back a photo of its two-year science mission target: Mount Sharp

The day after NASA's Curiosity rover touched down on the Martian surface, it pointed its camera at 18,000ft-high Mount Sharp - which is the main target for its ambitious two-year science mission aimed at establishing whether Mars may once have harbored key ingredients for life.

It follows a spectacular landing maneuver, which saw the one-tonne vehicle lowered to its exact landing spot by a rocket-powered sky crane - we reported about Curiosity's Mars landing on Monday.

The nuclear-powered rover, which is set to undergo several weeks of engineering tests before commencing its science mission, beamed back this image of Mount Sharp on Tuesday: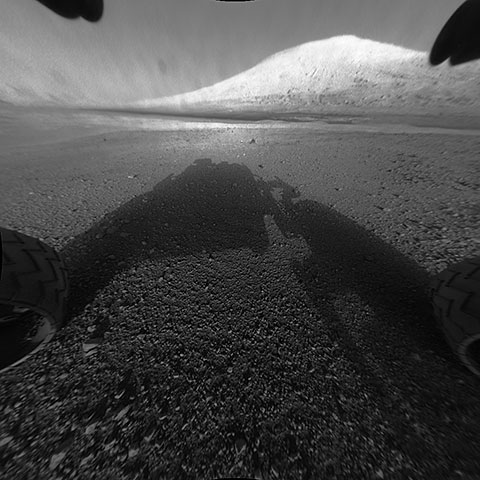 NASA's Curiosity Mars rover took this photo of its science mission target on August 6, 2012: 18,000ft high Mount Sharp
Image credit: NASA/JPL-Caltech

Curiosity's shadow can be seen in the foreground, and the dark bands beyond are Martian dunes. Rising up in the distance, is the highest peak Mount Sharp which is the central peak of Gale Crater near the Red Planet's equator.

The Curiosity team hopes to drive the rover to the mountain to investigate its lower layers, which scientists think hold clues to past environmental change.
Source: WFMZ Allentown, PA - on August 6, 2012

The red planet is ready for its closeup. NASA's latest mission to Mars made a safe landing Monday.
You Might Like
Other recent news in Science
Twitter
Comments
comments powered by
•More original news reports from One News Page