Perseid meteor shower to put on spectacular sky show


Saturday, 11 August 2012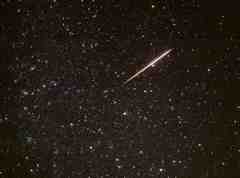 by Alice Monroe



The Perseids were set to put on the best meteor shower display of the year over the weekend

The annual Perseid Meteor Shower was set to put on a spectacular show in the night sky over the weekend. With meteor rates as high as 100 per hour, the Perseids are one of the most popular events in the astronomical calendar.

The Perseids are debris of ice and dust left behind by a comet called Swift-Tuttle along its 130-year orbit around the sun. Each year in August, Earth passes through the comet's debris, causing the particles to hit the Earth's atmosphere at high speed (around 130,000mph) and burn up in a bright flash of light.

The Perseids can be seen all over the sky, but the best viewing opportunities is across the northern hemisphere. The shower is expected to peak from August 11 to August 13.


The Perseid meteor shower was expected to peak this weekend

To view the Perseid Meteor Shower, you won't need any binoculars or telescope, just a clear dark sky. The best time to watch the Perseids is the dark hours before dawn, although they should be visible any time after 11pm.
Source: WEWS ABC 5 Cleveland, OH - on August 6, 2012

Perseid meteor shower this weekend
You Might Like
Other recent news in Science
Twitter
Comments
comments powered by
•More original news reports from One News Page