Mars rover Curiosity: NASA unveils first travel plans


Saturday, 18 August 2012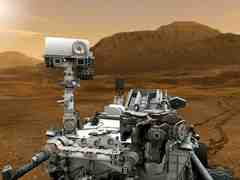 by Alice Monroe



NASA announced the first two road trip destinations for the $2.5-billion Curiosity Mars rover

Following its pitch-perfect landing on the Red Planet two weeks ago, NASA's Curiosity Mars rover is getting ready to roll to its first destination.

NASA scientists announced the first two road trip destinations for the sophisticated rover on Friday.

The first trip is fairly brief - only 550 yards - to a geologically rich area known as "Glenelg".

However, the rover will first need to complete a couple of weeks of further tests of its wheels and instruments before it can embark on its initial Martian road trip.

These tests also include the firing of its powerful ChemCam laser instrument. After firing 30 quick laser bursts at a small rock within 10 seconds, the rock is expected to disintegrate, leaving behind heated vapor which is then analyzed to determine the rock's composition.

Once Curiosity is on the move, it will actually take three to four weeks for the rover to arrive at the Glenelg destination as its top speed is less than 0.1 mph.

By the end of December, a much longer journey is planned for Curiosity as it will be sent to the base of a three-mile high mountain known as Mt Sharp. The 4.3-mile trip is expected to take several months to complete.
Source: Newsy.com - on August 15, 2012
Mars rover Curiosity's first test drive is coming soon after being reprogrammed by NASA to explore the surface of the Red Planet.
You Might Like
Other recent news in Science
Twitter
Comments
comments powered by
•More original news reports from One News Page