NASA astronauts make emergency repairs to the International Space Station using a TOOTHBRUSH


Thursday, 6 September 2012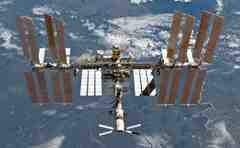 by Stephanie Boyd



Following failed attempts to replace an important power switching unit on the 100-billion-dollar International Space Station, astronauts used a $3 toothbrush to fix the problem.

HOUSTON, TX -- NASA astronauts used a $3 toothbrush to clean up a stuck bolt which had hampered previous attempts to replace a critical power switching unit on the International Space Station (ISS).

The improvised tool was used by NASA astronaut Sunita Williams and her Japanese colleague Akihiko Hoshide during a six-hour spacewalk on Wednesday to clear an accumulation of metal shavings causing a bolt to get stuck.

"Looks like you guys just fixed the station," Mission Control radioed from NASA's Johnson Space Center in Houston.

"It's been like living on the set of Apollo 13 the past few days. NASA does the impossible pretty darn well, so congratulations to the whole team," Mission Control said.

The ISS was operating on just five out of a total of eight solar power panels due to failures of two different power switching units.

The resultant power supply shortage forced the astronauts aboard the orbital outpost to manage their power very carefully.

An eight-hour marathon spacewalk a week ago proved unsuccessful in replacing one of the power switching units due to the stuck bolt. Flight controllers, engineers and veteran spacewalkers worked around the clock at Mission Control to devise a solution to the problem. Using only the supplies available on the space station, the teams came up with the idea of using a toothbrush. This is ultimately led to the bolt being cleared and the power switching unit to be successfully installed and powered up.

Flight director Ed Van Cise commented on how well the teams at Mission Control on the ground and the astronauts in orbit worked together. "It was really amazing to watch the ingenuity, to watch the flight controllers," Van Cise said. "It was amazing to see it all come together."
Source: WTEV-Syndi - on September 5, 2012

CAPE CANAVERAL, Fla. (AP) - Spacewalking astronauts armed with brushes and other homemade tools attempted to install a critical power-switching box at the International Space Station on Wednesday and revive electrical systems.
Recent related news

Spacewalkers Make Quick Work of Computer Repair on Space Station
Two astronauts quickly replaced a bad backup computer box and took on an extra task at the International Space Station on Wednesday during one of NASA's shortest...
msnbc.com 22 hours ago - Front Page

Storms threaten 2nd SpaceX launch to space station
SpaceX is back on the launch pad in hopes of making a critical delivery to the International Space Station. Liftoff is scheduled for 3:25 p.m. Friday, but...
Click Orlando 6 days ago - US
You Might Like
Other recent news in Science
Twitter
Comments
comments powered by
•More original news reports from One News Page