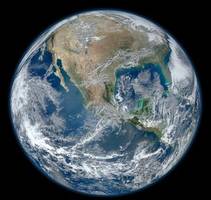 by

Stephanie Boyd

In a ground-breaking discovery, researchers have found a diamond that provides new evidence about the existence of oceans of water deep within Earth
ALBERTA, Canada -- Scientists analysing the first-ever terrestrial sample of a mineral called ringwoodite have come to an astonishing conclusion after determining the rare diamond's composition. According to their findings, there appear to be vast oceans of water trapped between 270 to 400 miles below the Earth's surface.
The findings by the team of scientists led by Graham Pearson, Canada Excellence Research Chair in Arctic Resources at the University of Alberta, suggest there may be as much water trapped inside Earth as there is water in all the world's oceans combined.
"This sample really provides extremely strong confirmation that there are local wet spots deep in the Earth in this area," Pearson said. "That particular zone in the Earth, the transition zone, might have as much water as all the world's oceans put together."
Implications of the discovery could be profound. "One of the reasons the Earth is such a dynamic planet is the presence of some water in its interior," said Pearson. "Water changes everything about the way a planet works."