Premier League to introduce goal-line technology after FIFA approval


Friday, 6 July 2012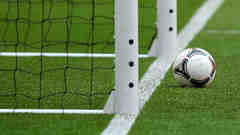 by Mike Anderson



The International Football Association Board (IFAB) has approved two goal-line technology systems for use - English Premier League expected to adopt of the systems next season

ZURICH, Switzerland -- FIFA, the football governing body, has approved goal-line technology in a long-anticipated move. It confirmed it will introduce the systems at the seven-team Club World Cup in Japan in December this year. Additionally, it is planning to deploy them in at the 2013 Confederations Cup and 2014 World Cup in Brazil.

Two goal-line technology systems have been approved. Hawk-Eye is a British camera-based system already used in tennis and cricket. GoalRef is a Danish-German project using magnetic sensors to track a special ball.

In England, the Premier League is expected to adopt one of the systems during the next season, at an estimated cost of uo to $250,000 per stadium.

In a statement, the Premier League confirmed it has been a "long-term advocate of goal-line technology".

"We welcome today's decision by IFAB and will engage in discussions with both Hawk-Eye and GoalRef in the near future with a view to introducing goal-line technology as soon as is practically possible," the Premier League's statement read.

FIFA also lifted a ban on women wearing headscarves during games, clearing the way for the participation of many Islamic nations in top-flight competition.
You Might Like
Other recent news in Sports
Twitter
Comments
comments powered by
•More original news reports from One News Page