London 2012 Olympic Games to be concluded by dazzling Closing Ceremony on Sunday


Friday, 10 August 2012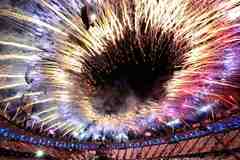 by Janie Snow



The London 2012 Olympic Games are set to draw to a close on Sunday with a star-studded Closing Ceremony - here is the date and time when it starts around the world

Entitled "A Symphony of British Music", the Olympic Closing Ceremony is rumoured to feature the Spice Girls, George Michael, Kate Bush, The Who and Take That in its line-up.

In total, the Olympic Closing Ceremony will feature over 4,100 performers and - judging by the spectacular impact of the Opening Ceremony two weeks earlier - is set to be sending waves of dazzling emotions around the world.

When does the ceremony start?

London 2012 Olympic Closing Ceremony: Sunday, August 12, 2012
21:00 (9pm) BST (United Kingdom) : London
22:00 (10pm) CEST (Central Europe) : Paris, Berlin, Amsterdam
16:00 (4pm) EDT (East Coast U.S.) : New York, Atlanta
13:00 (1pm) PDT (West Coast U.S.) : Los Angeles, San Francisco, Seattle

In the Asia-Pacific region, the date of the Closing Ceremony is Monday, 13th of August:

05:00 (5am) Japan: Tokyo
06:00 (6am) Australia: Sydney, Canberra
01:30 (1.30am) India: New Delhi, Mumbai

The closing ceremony is expected to last just under three hours.
Source: Associated Press - on August 11, 2012

Olympic Stadium will be transformed into a giant jukebox of British pop and pizazz for the London 2012 closing ceremony Sunday. The Spice Girls and The Who are among many musical groups and artists set to perform. (Aug. 11)
You Might Like
Other recent news in Sports
Twitter
Comments
comments powered by
•More original news reports from One News Page