Lance Armstrong doping scandal: Stripped of all seven Tour de France titles by UCI


Monday, 22 October 2012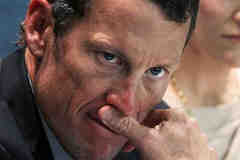 by Stephanie Boyd



Lance Armstrong, the world's most famous cyclist, has been stripped of all his seven Tour de France titles by the sport's world governing body UCI

GENEVA, Switzerland -- The International Cycling Union (UCI) announced that it had accepted the findings of the United States Anti-Doping Agency's (USADA) investigation into American cyclist Lance Armstrong.

The USADA had found Armstrong guilty of part-taking in the "the most sophisticated, professionalized and successful doping program that sport has ever seen". In its 1,000-page report it said Armstrong and his teams used steroids, the blood booster EPO and blood transfusions.

In a press conference held in Geneva on Monday, UCI President Pat McQuaid said Armstrong had been stripped of all his seven Tour de France titles and banned from the sport indefinitely for doping.

McQuaid said: "Lance Armstrong has no place in cycling. He deserves to be forgotten."

Armstrong, 41, overcame cancer to return to professional cycling and has won the Tour de France in seven consecutive years from 1999 to 2005. He retired from the sport for four years but came back temporarily from 2009-2011.

Whilst McQuaid emphasized during Monday's press conference that "cycling has a future", he also admitted that he did not believe cycling would ever be free from doping. "I don't think in any aspect of society there are no cheats. I do believe that doping can be hugely reduced," McQuaid said.

Armstrong could still face further sanctions. He could lose his 2000 Olympic time-trial bronze medal and may be targeted with civil lawsuits from ex-sponsors or even the U.S. government.
Source: IBTimes.com - on October 24, 2012
While the sports world struggles to come to terms with the Lance Armstrong doping scandal, Tour de France organizers unveiled a mountainous route for the 100th edition of the world's greatest cycling race on Wednesday (October 24). But with nine of the last 14 title wins wiped out because of doping,...
You Might Like
Other recent news in Sports
Twitter
Comments
comments powered by
•More original news reports from One News Page