You can have iPhone 4S, I'll take Galaxy Nexus


Friday, 11 May 2012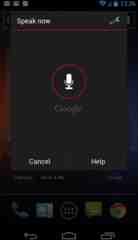 During the last six months, I've had the privilege to use three exceptional smartphones: iPhone 4S and two Galaxy Nexus variants -- one LTE and the other HSPA+. You can't go wrong buying either Android or iOS handset, although Galaxy Nexus supports more carrier networks here in the United States. Differences that matter are more than hardware (such as size, appearance or battery life) or software (apps and operating systems). Taking Galaxy Nexus or iPhone 4S is much more. Either is a digital lifestyle choice that many buyers won't grock before paying their hard-earned cash. I can't emphasize this aspect… [Continue Reading]
Source: IBTimes.com - on May 4, 2012

Samsung Electronics unveiled a new top-of-the-range Galaxy smartphone in London on Thursday (May 3), updating the most direct rival to Apple's iPhone with a larger touch screen and more powerful processor.
Recent related news

iPhone 6 Size Compared to Galaxy S5 and Other Android Phones
With a large bulk of the rumors for the iPhone 6 revolving around its purported increased screen size, there have been a healthy amount of iPhone 6 renderings...
MacRumours.com 3 hours ago - Computer Industry

Apple Has A New, Good Ad For The iPhone Featuring A Pixies Song (AAPL)
A good new Apple ad that shows off all you can do with the phone. It also has a cover version of the Pixies' song, "Gigantic," which Peter Kafka notes is pretty...
Business Insider 18 hours ago - Business
You Might Like
Other recent news in Technology
Twitter
Comments
comments powered by