Next Apple iPhone to feature larger screen


Wednesday, 16 May 2012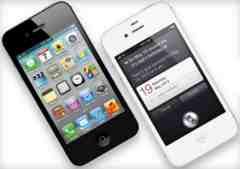 by Alice Monroe



Technology giant Apple has placed orders with its Asian suppliers of iPhone displays, according to recent reports. The displays are considerably larger than the 3.5" screen of current iPhone models.

Apple plans to use a larger screen of at least 4 inches corner-to-corner for its next-generation iPhone, and has already placed orders for the new displays with suppliers in South Korea and Japan, according to recent reports from the region.

The new iPhone, anticipated to go on sale in October this year, will be the first iPhone to sport a larger display with an increase in viewing area of at least 30%.

Apple's decision to equip the next iPhone with a larger screen represents part of a competitive response to Samsung, whose Android-based smartphones feature large display sizes up to 4.8 inches and have helped make Samsung the world's largest mobile phone maker this year.

Unlike other major consumer-electronics brands, Apple does not manufacture its own products such as the iPhone. Instead, the California-based firm hires manufacturing specialists - mainly in Taiwan and China - to assemble the devices using components sourced mainly in Asia.
Source: Newsy.com - on May 16, 2012

Apple has ordered larger phone screens from suppliers in Asia, a signal the iPhone might be getting a facelift, and an expansion.
Recent related news
Larger Version of iPhone 6 Might Be Delayed

A larger version of the next-generation iPhone is expected to come with a slimmer battery, but complications related to finding the right size could delay the...




Mashable 15 hours ago - Internet

Also reported by •Digital Spy •AppleInsider


Next iOS May Add Shazam Music Discovery

Have you ever heard a song you never heard before while you were out and about and wished you knew its title and artist? iOS soon may be able to tell you. Apple...




E-Commerce Times 5 days ago - Internet





Apple, Shazam reportedly working on song discovery for upcoming iOS

Apple and Shazam are reportedly working together to create a music discovery feature that will be integrated into the next version of the tech giant's iPhone and...




L.A. Times 6 days ago - Technology





TUAW TV Live: Form factors and other delights

All the talk these days about forthcoming Apple devices seems to focus on one thing -- form factors, AKA "how big the screen is". With the iPhone, there's a lot...




TUAW 6 days ago - Technology




You Might Like
Other recent news in Technology
Twitter
Comments
comments powered by
•More original news reports from One News Page