Cody Simpson Talks 'DWTS' Elimination on 'GMA'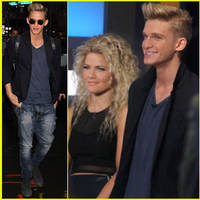 Cody Simpson poses with Witney Carson inside the Good Morning America studios on Tuesday morning (April 15) in New York City. The 17-year-old singer and his...
Just Jared Jr 19 hours ago - Entertainment

Did CIA Director Brennan Visit Kiev Recently?
Just a few weeks ago, someone (allegedly Russia) leaked a recorded phone conversation of Victoria Nuland commenting "fuck the EU" and how she (the US) wanted the...
Zero Hedge 2 days ago - Markets

Apple reportedly launching Retina MacBook Air and cheaper iMac this year
Apple's iMac computer lineup is gorgeous, sleek and powerful, but the models that make up the iMac family are very pricey. The MacBook Air lineup is thin,...
Boy Genius Report 6 days ago - Technology
Also reported by •AppleInsider