Microsoft to reveal tablet plans


Monday, 18 June 2012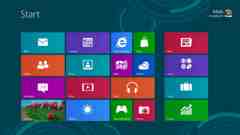 by Alice Monroe



Microsoft was expected to unveil its own company-branded Windows 8 tablet PC on Monday, challenging Apple's iPad

LOS ANGELES, CA -- Microsoft Corp was set to host a press conference in Los Angeles on Monday during which the technology giant was expected to unveil a company-branded tablet PC.

According to people familiar with the matter, Microsoft's own tablet is expected to run the firm's latest operating system, Windows 8.

Such a move would position Microsoft to challenge rival Apple in the lucrative $79 billion tablet market. However, introducing its own tablet could also upset Microsoft's closest hardware partners including HP and Samsung.

More details were set to be revealed at Microsoft's press event scheduled for 3.30pm PST on Monday. Expectations were set high by the tone of the media invite sent out on Thursday:

"This will be a major Microsoft announcement - you will not want to miss it," the invite read.

Image: Screenshot of Microsoft's Windows 8 operating system / credit: Microsoft
Source: WPRI CBS 12 Providence - on June 19, 2012
Microsoft announces tablet
Recent related news

Ready for a smaller Surface? What we know about the Surface Mini
We've been hearing about Microsoft's supposed plans to launch a smaller version of its Surface tablet, tentatively named the Surface Mini, for some time. Here's...
Digital Trends 1 week ago - Technology

Microsoft Surface mini tablet supposedly launching this spring
Microsoft has been rumored for quite some time to be working on a smaller Surface tablet, but the company has yet to make such plans official. However, Neowin...
Boy Genius Report 1 week ago - Technology
You Might Like
Other recent news in Technology
Twitter
Comments
comments powered by
•More original news reports from One News Page