Samsung Galaxy Nexus sales banned by U.S. court in Apple's second injunction win


Saturday, 30 June 2012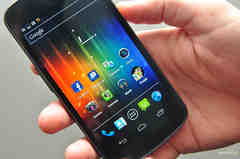 by Stephanie Boyd



Apple has won the second victory within a week against rival Samsung as a district court bans all sales of Samsung Galaxy Nexus smartphones in the U.S.

SAN JOSE, CA -- A U.S. district judge has banned sales of Samsung Galaxy Nexus smartphones in the United States in a patent dispute case between the world's largest smartphone makers Samsung and Apple.

The sales block will remain in place until the court decides on whether Samsung's Android-based Galaxy Nexus smartphone infringe on any of Apple's patents.

The rare injunction is the second of its kind within a week after the same judge barred Samsung from selling its Galaxy Tab 10.1 tablet PC in the US on similar grounds.

Apple, having accused Samsung of "blatant copying" of its designs, has been ordered to post nearly $100 million in bonds to enforce the rare sales injunction. This is to cover the estimated damage to Samsung caused by the temporary sales ban in case Samsung wins a later trial scheduled for 2014.

Samsung said it is disappointed with the court order and will take all legal measures.

Outlining that the patent infringement appears to concern the unified search feature developed by Google - which is installed on the Galaxy Nexus devices, a company spokesman said: "We are currently working closely with Google to resolve this matter, as the patent in question concerns Google's unified search function,"

"Samsung will continue to take all available measures, including legal action to ensure the Galaxy Nexus remains available to consumers," said Nam Ki-yung.
Source: Newsy.com - on June 30, 2012
Apple has won an injunction from U.S. District Court against sales of Samsung's Galaxy Nexus Smartphone.
You Might Like
Other recent news in Technology
Twitter
Comments
comments powered by
•More original news reports from One News Page