EOS M: Canon launches its first mirrorless camera


Monday, 23 July 2012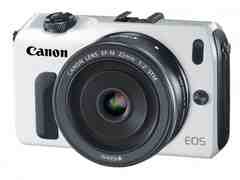 by Stephanie Boyd



Canon, the world's largest camera maker, has launched its first mirrorless camera. The EOS M packs the imaging capabilities of an entry-level DSLR into a compact model for just $800.

TOKYO, Japan -- Canon has launched its first mirrorless interchangeable lens camera (ILC), the Canon EOS M. The new camera, which features an 18-megapixel APS-C sensor, a 3-inch touchscreen and an advanced autofocus system borrowed from the EOS 650D DSLR camera.

The EOS M is set to go on sale from October and is expected to retail for $799 including a 22mm f/2 kit lens.

Major camera manufacturers are increasingly promoting higher-end camera models as smartphones with photo capabilities chip away at sales of compact cameras.

Eight of the 20 best-selling ILC cameras in Japan were mirrorless models last year, reflecting the increase in demand for higher-end cameras that don't use a flipping mirror during exposure.

With the introduction of the EOS M, Canon is the last of the larger camera makers to offer a mirrorless camera.

Sporting the same DIGI 5 Image Processor found in Canon's DSLR camera, the EOS M is capable of full HD movie recording and features a 31-point hybrid AF autofocus system and Movie Servo AF mode for real-time focusing.

The small-bodied camera weighs just 14 ounces including batteries and the 22mm kit lens.

A longer, zooming EF-M 18-55mm f/3.5-5.6 IS STM lens will also be available for the EOS M and is expected to retail for around $300. Using an adaptor, EOS M owners can mount existing Canon EOS EF and EF-S lenses.

The EOS M camera is going to be available in red, silver, black and white color.
Source: KOKI Fox 23 Tulsa - on July 24, 2012

First clip from incident involving Tera Mattingly
Recent related news

Canon Launches White Edition EOS 100D with EF-S 18-55mm f/3.5-5.6 IS STM Lens to Match
Canon enthusiasts have a reason to rejoice today, as their favorite photo maker has launched a white version of its EOS 100D digital SLR camera. The camera...
Softpedia 4 days ago - Technology

Canon EOS M3 to Arrive in Q3 2014, Possibly at Photokina in September
The Canon EOS M is the only mirrorless camera to come out of Canon to be made available in the US, even though the EOS M2 has been released in Japan and China...
Softpedia 5 days ago - Technology
You Might Like
Other recent news in Technology
Twitter
Comments
comments powered by
•More original news reports from One News Page