Samsung Galaxy Note 2 to be unveiled late August


Saturday, 4 August 2012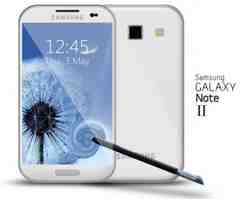 by Mike Anderson



Samsung is set to unveil the follow-up model of its popular Galaxy Note smartphone on August 29, about two weeks ahead of a possible debut of Apple's new iPhone

BERLIN, Germany -- Samsung Electronics is set to unveil the sequel to its popular Galaxy Note smartphone on August 29, just ahead of the opening of Europe's biggest consumer trade fair IFA in Berlin.

Samsung, which has overtaken Apple to become the world's largest smartphone maker, is timing the Galaxy Note 2 release about two weeks ahead of a possible debut of Apple's new flagship smartphone, the iPhone 5.

"We plan to unveil the next Galaxy Note at the Samsung Mobile Unpacked event in Berlin on August 29," an unnamed Samsung spokesperson told Reuters

According to industry sources, the new Samsung Galaxy Note 2 is likely to feature an "unbreakable" 5.5-inch high-resolution display - slightly larger than that of the predecessor model.

It is also set to sport a faster 1.6 GHZ quad-core processor and a higher-resolution camera.

Samsung is estimated to have increased smartphone shipments to 50.5 million in the April to June quarter of this year, nearly double the 26 million iPhones sold.

The South-Korean firm is currently involved in a full-blown patent battle with rival Apple in U.S. courts triggered by Apple's lawsuit last year claiming that Samsung slavishly copied Apple's smartphones and tablets. Samsung has countersued.
Recent related news

LG's so-called 'Galaxy S5 killer' could launch in July
Releasing a new flagship smartphone has become tricky because you don't want to release it too closely to new Samsung flagships that launch in the spring or...
Boy Genius Report 6 hours ago - Technology

Samsung Confirms Android 4.4.2 KitKat for Galaxy Note II and Galaxy S III Arrives by May
Samsung kept its promise and updated the Galaxy Note II to Android 4.3 Jelly Bean operating system, so fans are now expecting the South Korean handset maker to...
Softpedia 3 days ago - Technology

Report says Galaxy Note 4 may feature wild new hardware
A first rumor detailing specs and features for the Galaxy Note 4, Samsung's flagship phablet that should be unveiled in the second half of the year, has...
Boy Genius Report 1 week ago - Technology
You Might Like
Other recent news in Technology
Twitter
Comments
comments powered by
•More original news reports from One News Page