END OF AN ERA: Once-Dominant VC Firm Kleiner Perkins Gets Blown Up In Groupon, Zynga, And Facebook


Monday, 20 August 2012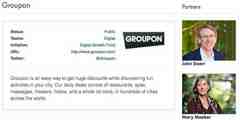 One of the big developments in Silicon Valley in recent years has been a quiet passing of a torch from the venture capital firms that dominated the tech-investing world in the 1990s to a new group that is eating the old group's lunch.

The disruptors, in other words, are getting disrupted.

First and foremost of the firms...
You Might Like
Other recent news in Technology
Twitter
Comments
comments powered by