Dazzling closing ceremony brings London 2012 Olympics to an end


Monday, 13 August 2012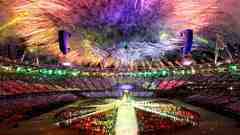 by Stephanie Boyd



A star-studded three-hour closing ceremony brought the London 2012 Olympic Games to an end on Sunday night

LONDON, United Kingdom -- The final curtain was brought down on the London 2012 Olympic Games on Sunday night with a spectacular closing ceremony featuring some of the biggest names of British pop.

The three-hour musical extravaganza saw The Who, Pet Shop Boys, One Direction, Madness, Muse, Take That, Jessie J and many more take to the stage.

George Michael staged his first public performance since his life-threatening battle with pneumonia.

Former British girl group The Spice Girls reunited for the special occasion, singing classics Spice up Your Life and Wannabe.

Victoria Beckham, Geri Halliwell, Emma Bunton, Mel B and Mel C sang atop jewelled black London taxicabs that glided across the stage.

The BBC reported UK closing ceremony viewing figures peaking at 26 million.

Concluding the finale, the official Olympic Games flag was handed to the Mayor of Rio de Janeiro before the flame at the Olympic Stadium was extinguished.

The President of the International Olympic Committee, Jacques Rogge, declared the Games of the 30th Olympiad closed just before midnight.

He said: "We will never forget the smiles, the kindness and the support of the wonderful volunteers, the much-needed heroes of these Games.

"You, the spectators and the public, provided the soundtrack for these Games.

"Your enthusiastic cheers energised its competitors and brought a festive spirit to every Olympic venue."

London 2012 Games chairman Lord Coe paid tribute to the volunteers, security staff, athletes, and others who helped make the event a success.

"On this last day I can conclude with these words: 'When our time came, Britain we did it right. Thank you.'"

British Prime Minister David Cameron declared London 2012 a resounding success. "You only need two words to sum up these Games: Britain delivered."
Source: WPRI CBS 12 Providence - on August 13, 2012

The London Olympics closing ceremonies took place last night, and the performances were impressive.
You Might Like
Other recent news in UK
Twitter
Comments
comments powered by
•More original news reports from One News Page