Wikileaks founder Julian Assange granted asylum by Ecuador


Thursday, 16 August 2012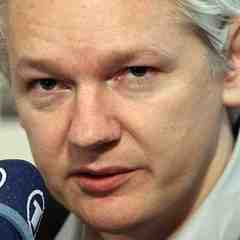 by Stephanie Boyd



Ecuador has granted political asylum to Julian Assange - a move that is likely to further deteriorate its diplomatic relations with Britain

LONDON, United Kingdom -- Wikileaks founder Julian Assange, who sought refuge at the Ecuadorian embassy in London in June in an attempt to avoid extradition to Sweden, has been granted political asylum by Ecuador.

Ecuador's Foreign Affairs Minister Ricardo Patiño made the announcement in a speech in the Ecuadorian capital Quito on Thursday, saying that "extreme and careful consideration" had been given to Assange's asylum application.

Assange's Wikileaks website published a large number of leaked diplomatic cables which proved particularly embarrassing for the U.S. government.

Mr Assange was due to be extradited to Sweden to face questioning over assault and rape allegations, which he denies. The Wikileaks founder says if extradited to Sweden he would likely be passed on to U.S. authorities.

Back in Ecuador, Foreign Minister Patiño said if Assange was to be tried for crimes in the US, he would not be given a fair trial, and that the Ecuadorian government has failed to get a guarantee from Swedish authorities that Assange would not be passed on elsewhere.

Patiño also rejected a "threat" made against his country by the British government on Wednesday, saying that the UK could legally arrest Assange even within the grounds of the Ecuadorian embassy in London - which is recognised as Ecuadorian soil.

"Today we have received from the United Kingdom an explicit threat in writing that they could assault our embassy in London if Ecuador does not hand over Julian Assange," Mr. Patiño said at a news conference in Quito on Wednesday, adding defiantly, "We are not a British colony."

He cited a letter delivered to him by a British embassy official in Ecuador.

British government warning Ecuador about the "Diplomatic and Consular Premises Act 1987":


"You need to be aware that there is a legal base in the U.K., the Diplomatic and Consular Premises Act 1987, that would allow us to take actions in order to arrest Mr. Assange in the current premises of the embassy.

"We sincerely hope that we do not reach that point, but if you are not capable of resolving this matter of Mr Assange's presence in your premises, this is an open option for us."



Wikileaks has condemned what it calls "the UK's resort to intimidation".

"A threat of this nature is a hostile and extreme act, which is not proportionate to the circumstances, and an unprecedented assault on the rights of asylum seekers worldwide," it said.

The latest events were also marked by increased police presence outside the embassy, and a number of clashes between Assange supporters and British police there.
Source: News - on August 22, 2012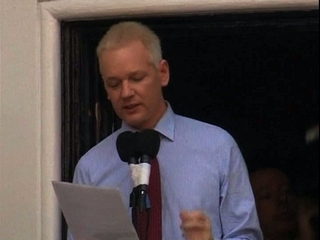 London, Aug 19 (ANI): In the first public appearance at Ecuadors embassy since his involvement in sexual misconduct case, Wikileaks founder Julian Assange said that the United States must stop its witch hunt against his website. Assange made an appeal to US President Barack Obama, to do the right...
You Might Like
Other recent news in UK
Twitter
Comments
comments powered by
•More original news reports from One News Page