A 'Doctor Who' puppet visited New York and it the cutest thing we've seen all week


Thursday, 17 May 2012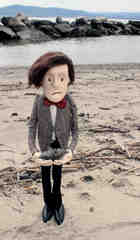 Every now and then something will come to our attention that just warms our hearts. Does everyone remember Ryan Gosling's cuteness compared to puppies? We certainly do.

As a Time Lord, The Doctor Puppet is a tourist wherever he goes. He travels all over New York. From Grand Central Terminal to Coney Island all the way to Prospect Park, this city is his playground. He even made a quick pit spot in Philly.

With every stop, The Doctor Puppet has a little something to say about his location.

When he visited Sunset Park in Brooklyn he tells his audience that he joined a picnic and did some cloud watching. Adorable, right?
 
It's not all good days, for The Doctor Puppet, though. When he visited Prospect Park, he tried to play football, but was told he was too short. When he went to Coney Island, it was unfortunately too cold to swim. It's OK, Doctor Puppet, we have bad days too. And at least there are no Daleks, right?

So meet our new friend in the photos below. We can't wait to see where his next adventure takes him.

He walked down Eastern Parkway in Brooklyn.

He visited the main branch of the New York Public Library.

The Hudson River was a little smelly but The Doctor Puppet said he still enjoyed himself.Follow Mary Ann Georgantopoulos on Twitter @marygeorgant

Recent related news

Prices For Lady Gaga Tickets Rising For Upcoming ARTPOP Ball Dates
Before embarking on the 'ARTPOP Ball' World Tour, Lady Gaga took the stage for the final set of shows at New York City's storied Roseland Ballroom. The...
Forbes.com 1 week ago - Business

For A Dollar, Would You Have Sex With Paul Rudd? No, Seriously, Billy Eichner Wants To Know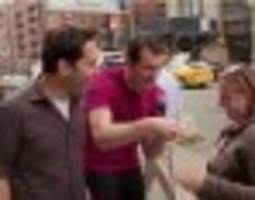 Sometimes, it's amazing what "Billy On The Street" can get celebrities to do. This week, Billy Eichner convinced Paul Rudd to run around New York City (as...
PopEater 1 week ago - Entertainment
You Might Like
Other recent news in US
Twitter
Comments
comments powered by