Samsung Galaxy Tab 10.1 sales halted by US court


Wednesday, 27 June 2012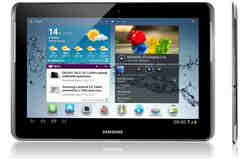 by Alice Monroe



Apple Inc wins court order blocking the sales of rival Samsung Galaxy Tab 10.1 tablets in the U.S.

SAN JOSE, CA -- A U.S. district judge has granted Apple's request to ban Samsung from selling its Galaxy Tab 10.1 product in the U.S. over an alleged single patent infringement.

Samsung's Galaxy Tab 10.1 is considered by most industry analysts as the closest competitor to Apple's iPad tablet.

Judge Lucy Koh argued that Samsung was "flooding the market with infringing products" and granted Apple a preliminary injuction, banning Samsung from selling its Galaxy Tab 10.1 tablets in the U.S. until the patent dispute is decided on by her court.

The trial for the case is scheduled to begin in California on 30 July.

The injunction only applies to the sales of Samsung's Galaxy Tab 10.1 product, and not the newer Galaxy Tab 10.1 II.

Samsung said in a statement on Wednesday that it intends to take necessary legal steps in response to the ruling, saying it "will ultimately reduce the availability of superior technological features to consumers in the U.S."

"If Apple continues to sue based on "generic design" patent claims innovation and progress in the industry could be restricted," Samsung argued.

Apple sold 13.6 million iPads in the three months to March 2012, giving it a 63% share of global tablet sales, according to data released by research firm Display Search. In the same period, Samsung sold 1.6 million tablets - a 7.5% share. The global tablet PC market is set to double this year to 125 million units and further double again to 250 million annual tablets sales in 2015, analysts say.

Other new tablet models are emerging from China, such as the Sanei N10 tablet which - similarly to the Galaxy Tab 10.1 - sports a high definition 10" touchscreen display and runs Google's Android 4.0 operating system dubbed Ice Cream Sandwich.
Source: Newsy.com - on June 27, 2012
Apple has won a preliminary injunction against sales of Samsung's Galaxy Tab 10.1.
Recent related news

Samsung altered the sales of the Original Galaxy Tab, according to leaked documents

The Apple vs. Samsung patent trial has taken a somewhat filthy turn for the Korean organization owing to the arrival of some secret deals containing information...
I4U News 5 days ago - US
Also reported by •Softpedia •Digital Trends •bizjournals •CNNMoney

Top secret document suggests Samsung knowingly lied about tablet sales
New evidence from the second Apple vs Samsung U.S. patent lawsuit reveals that Samsung grossly misrepresented its Galaxy Tab sales when it first started...
Boy Genius Report 1 week ago - Technology
Also reported by •CNNMoney

Exclusive: Apple vs. Samsung docs reveal Galaxy Tab was a flop and Samsung knew it
Top secret sales data revealed during the Apple vs. Samsung trial this week shows that Samsung knew that the Galaxy Tab sales figures (and overall Android tablet...
AppleInsider 1 week ago - Computer Industry
You Might Like
Other recent news in US
Twitter
Comments
comments powered by
•More original news reports from One News Page