Iran: We can strike U.S. bases


Saturday, 7 July 2012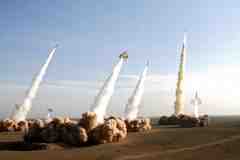 by Stephanie Boyd



Iran warned it can strike 35 American military bases within minutes if attacked

TEHRAN, Iran -- Iran's Islamic Revolutionary Guards Corps (IRGC) warned it would strike three dozen regional American military bases within minutes in case the country is attacked.

Brig. Gen. Amir Ali Hajizadeh, the commander of the IRGC Aerospace Force told reporters that Iran has detailed contingency plans in case of any attack. He said Iran can strike 35 U.S. military bases within a radius of 1,300 miles "within minutes".

Hajizadeh's claims come as the IRGC conducts a major military exercise in the Iranian desert. Codenamed "Payambar-e Azam 7 (The Great Prophet 7)", the wargames operation includes firing tens of short-, mid- and long-range missiles at a target situated somewhere in central Iran, which has been described by IRGC officials as a replica of an American air base in the region.

The U.S. and Israel have hinted at the possibility of military strikes against Iran in case sanctions and diplomacy do not rein in Iran's nuclear development program. The West suspects Iran may be aiming to build nuclear weapons. Iran insists its program is for peaceful purposes.
You Might Like
Other recent news in US
Twitter
Comments
comments powered by
•More original news reports from One News Page