Three US Airways commuter jets carrying 192 people narrowly avoid mid-air collision


Thursday, 2 August 2012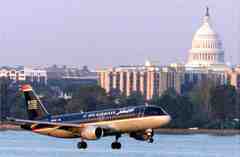 by Alice Monroe



Three US Airways jet carrying a total of 192 passengers on board "came within seconds of a mid-air collision" near Washington's Reagan National Airport - the FAA is investigating the incident

WASHINGTON -- The FAA is investigating reports of three commuter jets narrowly missing a mid-air collision near Washington's Ronald Reagan National Airport outside the U.S. capital on Tuesday afternoon.

Three US Airways jets carrying a total of 192 passengers and crew members nearly collided after air traffic controllers reportedly made the mistake of clearing two outbound flights to take off in the direction of an incoming plane.

Analysts reported the jets were apparently 12 seconds from colliding with each other in mid-air as the two outbound planes came within a mere 500-600 feet of the incoming plane.

Reportedly the incident may have happened after air traffic control - based in Warrenton, about 50 miles from the airport - wanted to reverse the flow of flights amid a "significant" shift in wind direction - but this was not communicated to the airport control tower.

An air traffic controller reportedly realized the error and ordered the incoming flight to turn and avoided the crash.

The FAA said in an emailed statement that it will take "appropriate action to address the miscommunication" that led to the incident.

It says that due to bad weather, air traffic controllers switched landing and departing operations and miscommunication "led to a loss of the required separation" between the jets.
Source: WKRC CBS 12 Cincinnati - on August 2, 2012
FAA trying to figure out why three planes came too close to one another
You Might Like
Other recent news in US
Twitter
Comments
comments powered by
•More original news reports from One News Page