Record-breaking 17-foot giant python found in Florida


Tuesday, 14 August 2012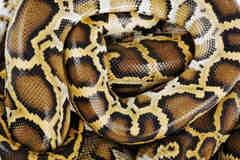 by Alice Monroe



The largest Burmese python ever caught in Florida has been captured in the Everglades - measuring more than 17 feet and weighing 164lb

MIAMI, FL -- A giant Burmese python has been caught in Florida's Everglades National Park. The 17ft 7in monster python is believed to be the largest ever caught in Florida's wild.

The python was pregnant with 87 eggs - which scientists say may also be a record.

Now euthanized, the 164-lb (74kg) monster python is being examined by researchers at the University of Florida.

Native to South East Asia, Burmese pythons appear in South Florida with increasing frequency and are seen as posing a threat to other wildlife in the region.

Kenneth Krysko of the Florida Museum of Natural History explained: "There's nothing stopping them, and the native wildlife are in trouble."

"A 17-and-a-half-foot snake could eat anything it wants," he added.

Tens of thousands of Burmese pythons are believed to be living in the Everglades, where they thrive in the warm, humid climate.

Scientists say research of the snake's biology is important in understanding how to stop the python's spread - not just in the Everglades, but also in other parts of the world.
You Might Like
Other recent news in US
Twitter
Comments
comments powered by
•More original news reports from One News Page