[VIDEO] Scenes From The 111th Annual Hamburg Fair


Sunday, 19 August 2012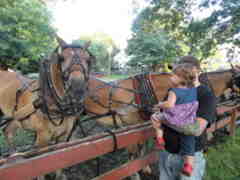 The Lymes, CT --

 

Despite the rain, plenty of people turned out for the 111th Hamburg Fair yesterday, particularly in the afternoon when the weather finally cooperated. Today's weather forecast looks good, however, so if you've not gone yet, now's the time to do it. Here's a look at what's happening and a video and slide...
Source: The Advisor & Source - on August 15, 2012

The 140th annual Armada Fair kicked-off on Aug. 13 and runs through Aug. 19. Events throughout the week include 4-H shows, musical entertainment, the carnival, food, games and much more.
Recent related news
ABCD: After Breast Cancer Diagnosis – Annual Fundraiser

The annual fundraiser will be held Friday, May 9that the State Fair Park Expo Center. Glendale, WI (PRWEB) April 18, 2014 ABCD: After Breast Cancer...




PRWeb 19 minutes ago - Press Releases





Brownells 8th Annual Gunsmith Conference & Career Fair Sets Another Attendance Record

Brownells' one-of-a-kind Gunsmith Conference & Career Fair sees nearly 500 attendees. Montezuma, Iowa (PRWEB) April 18, 2014 More than 475 attendees and 70...




PRWeb 10 hours ago - Press Releases





Tribeca Film Festival 2014

Scenes from the annual New York City film festival, running from April 16-27




CBS News 1 day ago - Entertainment





Vendors Wanted for Holliston Historical Society Harvest Fair

Patch Holliston-Hopkinton, MA -- The 34th Annual Holliston Historical Society Harvest Fair will be held on the grounds of the Asa Whiting House, 547...




Patch 1 day ago - US




You Might Like
Other recent news in US
Twitter
Comments
comments powered by